Almost the entire Ruhr region belongs to the Rhine-Ruhr Transport Association (VRR). Local public transport in the Ruhr area is relatively well developed. Almost all tickets can be used on all means of local public transport. These include the S-Bahn, the U-Bahn, the tram, buses and local trains. Most tickets are not valid on long-distance trains (such as ICE, EC and IC).
There are single tickets, day tickets and monthly tickets, among other things, in the Ruhr area. These can be bought at many sales points, in vending machines and on the internet. Unfortunately, the 7-day tickets (roughly weekly tickets), which are interesting for tourists, are only available on the internet. In the following, we will now describe the various tickets in the VRR area (almost the entire Ruhr region and beyond). The information is based on the year 2017 and is partly simplified. It only serves as an overview. More detailed information is available on the website and from VRR staff.
It should be noted that some small, outer parts of the Ruhr region, such as the city of Hamm, do not belong to the VRR tariff zone. On the other hand, other regions and especially some large cities that are interesting for tourists belong to the VRR, even though they are not in the Ruhr area (also called Revier or Pott). The VRR network includes Düsseldorf, Wuppertal and Mönchengladbach, among others.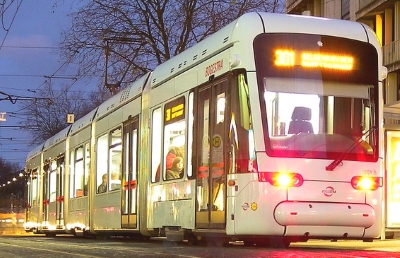 Price levels for local transport in the Ruhr area
As the Ruhr area is quite large, tickets in the Rhine / Ruhr transport network cost very different amounts depending on the distance. This applies to all tickets, from single tickets to annual season tickets. A one-way trip on public transport in the VRR area costs between 1.60 euros (short distance) and 15 euros. 15 euros sounds a lot. But you should bear in mind that the distances in the Ruhr area can be well over 50 kilometres. Nevertheless, we find that the prices for many tickets are comparatively high.
The VRR tariff area is divided into tariff zones. In other parts of Germany such a division is also called zones, tariff zones or honeycombs. Unfortunately, the division of the fare levels is rather complicated for tourists who are getting to grips with the system for the first time.
The prices for most tickets on VRR local transport are based on the number of tariff zones you pass through. Most large cities are one tariff zone. Almost always, several smaller cities or municipalities in the Ruhr area are combined into one tariff area. Very large cities (Essen, Dortmund, Dusseldorf, Duisburg and Wuppertal) are each divided into two tariff zones.
Fare stage A applies to a tariff zone or a city. So, for example, the whole of Essen is in level A, even if you travel through both tariff zones of Essen.
Price level B applies to a tariff zone and the neighbouring tariff zones. That's more than many tourists think. With a fare stage B ticket, you can travel from Essen Hbf via Bochum to Dortmund Hbf, i.e. through 3 tariff zones. This sounds relatively complicated at first, but is nevertheless simple. You buy a ticket with the Bochum central tariff area with price level B. This is then also valid for all neighbouring areas of Bochum – Essen Mitte / Nord (west of Bochum) and Dortmund Mitte / West (east of Bochum).
Price level C applies to 2 tariff zones and their neighbours. However, the 2 tariff zones must be next to each other, for example Essen and Bochum.
Price level D applies to the entire VRR area.
You don't immediately understand this classification if you don't come from the district. In any case, it took us a few days to understand it correctly. You can also just go to a sales point or to a ticket machine. In the machine you can enter where you want to go. The machine then calculates the price level. Of course, you can also do this on the internet.
By the way, VRR tickets are also valid on the famous Wuppertal suspension railway. The suspension railway is a normal means of public transport in Wuppertal and also the city's biggest tourist attraction. The H-Bahn in Dortmund and the SkyTrain in Düsseldorf are also integrated into the tariff system of the Rhine / Ruhr Transport Association.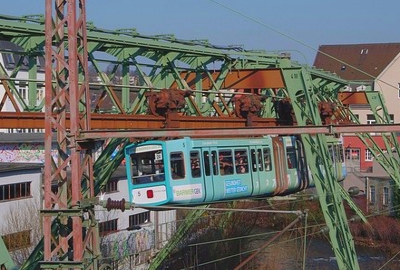 Single tickets
These cost 2.90 euros for tariff level A. This means that you can travel anywhere within a city or a tariff zone with a change of trains for 2.90 euros. If you want to travel back again, you need a new ticket.
Longer distances cost €6.10 (price level B), €13 (C) and €15.70 (D). (as of the beginning of 2022)
Please note that single tickets can only be used for a certain time after they have been validated. These are 90 minutes for price level A, 120 minutes (B), 3 hours (C) and 5 hours (D).
For very short distances, there is also the short distance ticket for 1.80 euros. As far as we know, there are notices at all stops that list all destinations for the short distance. As a rule, these are stops within a radius of about 1.5 kilometres. As far as we know, there are no short-haul fares on regional trains or the S-Bahn in the Ruhr region.
Multiple tickets
There are 4-trip tickets and 10-trip tickets in the Ruhr area. These multiple tickets are usually between 10% and 30% cheaper than single tickets. As far as we know, the 10-trip tickets are only available on the internet for printing out or as mobile phone tickets.
Day tickets
Day tickets are simply valid for one calendar day until 3am the next day. At the beginning of 2022, these will cost €6.80 for the first person in price category A, €13.90 in B, €23.60 in C, €28.40 in D. Additional persons will cost a surcharge: €3.20 in A, €3.70 in B, €4.20 in C and €4.90 in D.
Day tickets in the Rhine / Ruhr tariff association are usually useful from the third single journey on a day. If you are travelling with more than one person, a day ticket in the Ruhr area can also be cheaper for one outward and one return journey.
Monthly tickets
These are valid for one calendar month and are comparatively cheap. As tourists do not usually stay in the Ruhr Area for that long, we will dispense with further information at this point. There are also 30-day tickets. Then you are free to choose the start date and are not bound to the beginning of the month. 30-day tickets are only available online.
7-day tickets or weekly tickets (only on the Internet)
Current: The 7-day ticket is no longer available since 2022!
Actually, weekly tickets or 7-day tickets in many German cities are a great thing for tourists. However, in the Ruhr region, in the VRR area, these multi-day tickets are hard to get. You can't buy them at ticket counters or machines, but only on the internet. This is a bit complicated for many tourists. On the one hand, you can download an app onto your mobile phone and buy the tickets as a mobile phone ticket. But who wants to go to all that trouble if you're going to the Ruhr for a week? In addition, as far as we know, you can't pay with Paypal.
The other option we chose is to buy the 7-day ticket on the internet and then print it out ourselves. In our experience, this is much easier, but not if you are already on holiday in the Ruhr region and don't have a printer at hand. We wandered around Dortmund for an hour until we found an internet cafe with a printer where we could finally print out our weekly tickets for the Ruhr area.
Why aren't these tickets available at the ticket office or at least in the ticket machines? We don't know. In any case, in our opinion, this state of affairs is not exactly beneficial for tourism in the Ruhr region. It's best to buy the 7-day tickets at home, where you have a printer at your disposal.
Prices weekly ticket (7-day ticket) between 27.65 (price level A), 40.40 euros (B), 53.15 euros (C) and 67.70 (D). In smaller towns in the Rhine/Ruhr transport network, the weekly ticket in price category A costs somewhat less.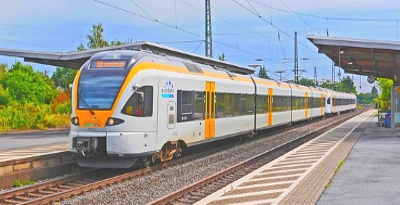 Which tickets should I buy as a tourist in the Ruhr area?
If you are staying for a week or 1-2 days less, a 7-day ticket is usually the best option. Unfortunately, this ticket is hard to get (see above).
Day tickets are relatively expensive, especially for single travellers. If the hotel is in Essen and you want to see sights in neighbouring Bochum, this costs a hefty 13.90 euros for one day (price B). For several people or for a small group, however, day tickets are much cheaper. Day tickets are also much cheaper if you are only visiting one city (price level A).
Where can I buy tickets for local transport in the Ruhr region?
Most tickets are available from the many VRR ticket machines. There are also many points of sale. In our opinion, the best place to get information is at the customer centre of the individual companies that have joined together to form VRR. Many tobacconists and other small shops in the area also sell tickets for local transport. In addition, you can get tickets and competent information at the Deutsche Bahn counters in the large main stations.
Book a Minibus Athens Airport online
Three frequent questions
1. Do bus drivers sell tickets in the Ruhr area?
Yes, you can buy tickets on the bus in the Ruhr area, but not all tickets. You can usually get single tickets and day tickets and some other tickets from the bus driver. So you can usually get on a bus without a ticket and buy a ticket from the bus driver. However, this only applies to buses.
2.Which tickets are only available on the internet?
As far as we know, in the VRR area you can only get the weekly ticket (exact name: 7-day ticket), 10-day tickets and 30-day tickets on the internet or via the VRR mobile phone app.
3.Do I have to stamp the tickets?
Yes, this is often forgotten by tourists. Many tickets in the Ruhr area have to be stamped when you enter a certain area in the station or when you enter a bus, tram, etc. However, some tickets are validated automatically when you buy them. Always look carefully at the ticket to see if it has already been validated.
All information on this page refers to the summer of 2017. It is partly simplified and written from the perspective of a tourist in the Ruhr area. They are only an overview. More detailed information is available from the VRR and the official ticket offices.
We do not guarantee the accuracy of the information. This also applies to all other sub-pages of this website.