The Schauspielhaus in Bochum is one of the most famous theatres in Germany. It was built in its current form in 1953. Before that, another well-known theatre stood on the same site. However, this was almost completely destroyed during air raids in 1944.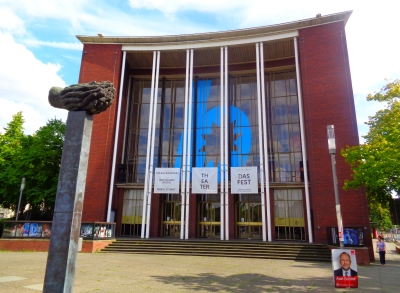 The Schauspielhaus' greatest period was in the 1980s. Under the artistic director Claus Peymann, the Bochum ensemble became the most important modern and innovative theatre in Germany. The most famous actor of the Schauspielhaus is probably the television entertainer Harald Schmidt, who ensured full box offices in two roles in 2002. Elmar Goerden has been the artistic director of the Schauspielhaus Bochum since 2005.
Ticket prices are affordable and range from about €11 to €37 (as of 2022) without concessions. Premieres and performances at weekends cost a little more, as far as we know. There are reductions for pupils, students, disabled people and so on. Prices at the lower end of the theatre are significantly cheaper: €12 (€8 with concession) in 2017. Special performances in the programme for schools in the morning or for children and young people are also favourable.
Opening hours for ticket sales and information: The box office at the Bochum Schauspielhaus is open every day except Sunday from 10 am to 6 pm (as of early 2022). In addition, it opens in the evening one hour before the performance. In summer, the box office is usually closed during the day for a few weeks (as of 2020), but you can also buy tickets for the Schauspielhaus Bochum online.
How to get to the Schauspielhaus Bochum: About 20 min walk from the main station. An underground and several tram lines run from the main station and other parts of Bochum to the Schauspielhaus. The Bermudadreieck pub district is less than a 10-minute walk away.