The GOP Essen is one of the best and most famous variety theatres in Germany. Acrobats, magicians, dancers, ventriloquists, jugglers and other artists entertain guests to a high standard in the 378-seat building in the centre of the Ruhr region. In addition, there is good food and drink. Varieté Essen is a mixture of artistic and gastronomic experience.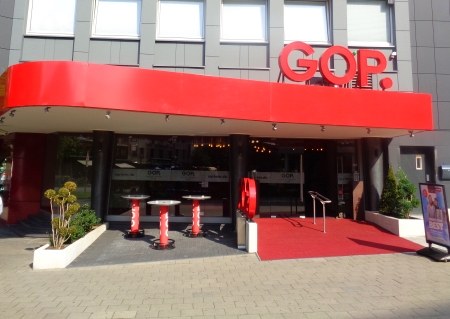 The shows are elaborate, the performances world-class. The GOP in Essen has only been around since 1996. The show changes about 6 times a year. The interior design of the building seems playful and kitschy, but it fits well with the atmosphere in a variety theatre.
Some say that vaudeville is a mixture of theatre and circus. This is not entirely wrong, but not entirely true either. However, vaudeville is an independent form of stage art. The art of vaudeville originated in France (Paris). The great time of vaudeville in Germany was between the two world wars during the Weimar Republic. For some years now, variety theatres have been celebrating a comeback in Germany.
The price of admission depends not only on the seats but also on the time of the shows. Shows on Friday and Saturday are slightly more expensive than performances during the week or on Sunday.
Currently (early 2022), admission to the GOP Varieté Essen costs between 39 and 49 euros. The highest admission price to GOP Essen is paid on Friday and Saturday. Students up to 27 years of age, schoolchildren and children receive a large discount.
Getting to the GOP by bus and train: We think it's great that the tickets include free travel to and from the venue (entire VRR tariff area). Nearby tram and underground stops at the GOP Variete are Rheinischer Platz (trams 101 and 105) and Viehofer Platz (trams 106 and 107). It is also a 20-minute walk from Essen's main railway station through Essen's large pedestrian zone. The Varieteheater is in the northern part of the city centre next to the Pferdemarkt at Rottstraße 30.
The starting times of the shows look something like this: During the week (Thursday and Friday) there is one show per day at 8pm. On Saturday there are two shows at the GOP Variete-Theater Essen at 4 pm and 8 pm. On Sunday there are two shows (2pm and 6pm). Status of this info: Early 2022
Menu for the performance: There are also tickets for the GOP Essen including food (menus). These are slightly more expensive, the (2 or 3 course) menus always have good reviews. 17.50 or 22.50 euros in 2022. You can also order food from the menu at the Leander restaurant in the GOP Varieté.
Other variety theatres: To our knowledge, there are now seven GOP Varieté theatres in Germany, namely in Munich, Hanover, Bad Oeynhausen near Bielefeld, Bremen, Münster, Bonn and the one described above in the Ruhr region at Rottstraße 30 in the city centre of Essen.