A travel guide about the Ruhr area on the Internet
The Ruhr region – also known as the Ruhrgebiet, Revier, Pott, Ruhrpott or Kohlenpott – is the most populous region in Germany with just over 5 million inhabitants. Including the surrounding cities, there are even almost 10 million people. This is comparable to the largest metropolises in Europe such as London or Paris. The Ruhr area consists of many large cities that have almost or completely grown together. The most famous and largest are Dortmund, Essen, Duisburg, Bochum and Gelsenkirchen.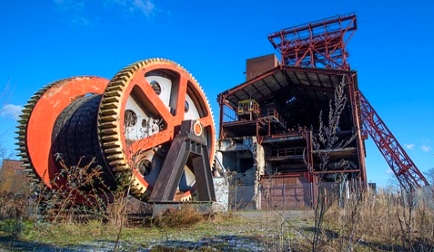 There are comparatively few tourists in the Ruhr region. This is mainly due to the old image of the Ruhr as a dirty and industrial region. However, this is completely wrong. In probably no other metropolitan area in Germany you can find more sights.
In this internet travel guide I want to present interesting sights in the Ruhr area and hopefully convince some people that a trip to the Revier is worthwhile. You can find an overview of the described sights on this website in the menu on the right side of this page.
Many sights in the Ruhr area originate from the great time of the Revier, the time of heavy industry, the era of coal and steel.
Highlights include the Zollverein Coal Mine Industrial Complex in Essen, once the largest coal mine in the world, and the gigantic gas tower in Oberhausen.
But the Ruhr region today is much more than industry. The region also has much to offer in the areas of culture and nature. The Folkwang Art Museum in Essen is one of the most important museums of modern art in Germany. Admission is free. The Westfalenpark in Dortmund and the Grugapark in Essen are among the most beautiful green spaces in the republic.
Also some zoos in the Ruhr area are more than worth seeing, first of all the big and modern zoo in Gelsenkirchen. One should also not forget soccer, which is more important than anything else for many people in the area. For example, a stadium tour at Schalke or the museum of Borussia Dortmund is interesting.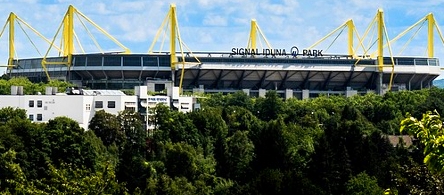 Although a great deal was destroyed in the Ruhr region due to the importance of industry in World War 2, you can find some beautiful old towns with typical half-timbered houses in the region. These include, for example, the large city of Hattingen (see picture) or Essen-Kettwig.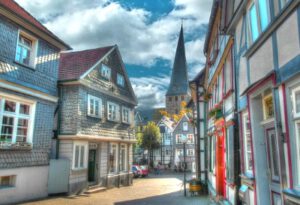 Many tourists come to the Ruhr area for shopping. CentrO in Oberhausen is the largest shopping center in Germany, Essen is considered the shopping city in the Ruhr area.