The Friedrichsbad is a traditional thermal bath in the city of Baden-Baden, just a few hundred metres from the city centre. The Friedrichsbad Baden-Baden was built around 1870 and was the most modern and best-known bath in Germany for several decades. Even today, bathing in the architecturally uniquely beautiful bath in the ancient Roman style is an experience that no bath fan should miss.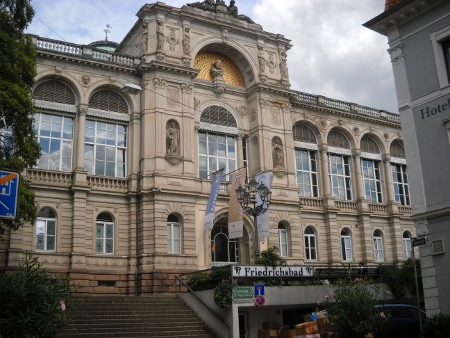 The water in the Friedrichsbad Baden-Baden has different temperatures depending on the pool and has the well-known healing effect of the thermal water of Baden-Baden. The salty water from the Friedrichsstollen is very rich in valuable minerals. The Friedrichsbad is divided into 17 so-called stations. On some days, men and women are mostly separated according to tradition, but there are also "mixed" bathing days.
Trip to Europapark Rust: Many tourists in the Black Forest take a day trip to Europapark Rust, the largest amusement park in Germany. The amusement park is in the west of the Black Forest near the Rhine and the border with France. After Corona, Europa-Park Rust is very busy again. That's why many visitors buy their tickets online beforehand:       >>>>  On the ticket website Getyourguide you can buy tickets online
Admission prices Friedrichsbad Baden-Baden 2020: The normal admission price is 21 euros. The noble atmosphere of the thermal bath alone is worth the money. Various massage services, such as the well-known soap brush massage, cost extra. There are discounts for people who visit the Friedrichsbad frequently.
Opening hours Friedrichsbad Baden-Baden: Every day from 9 am to 10 pm. Monday, Thursday and Saturday bathers are segregated by gender, the other four days of the week are not.
The Friedrichsbad is a nudist (nude) bath!
Link tip: The Scuola Grande di San Roco, one of the most beautiful art museums in Venice.