The Dortmund Brewery Museum is a smaller museum, but well worth a visit. It is devoted entirely to the subject of beer, breweries and brewing technology. There is also a lot of information about Dortmund as a beer city. Alongside Berlin and Munich, Dortmund is the city with the highest beer production in Germany. With coal mining and the steel industry, the large breweries were traditionally Dortmund's largest industrial enterprises.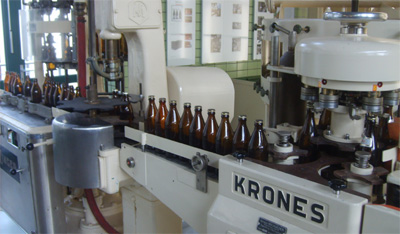 The museum was only opened at its current location in the north of Dortmund in 2006. The Hansa brewery used to be on the current museum site, now the Dortmunder Actien-Brauerei brews behind the brewery museum. In addition to the history of the Dortmund breweries, the history of the technology of beer brewing is presented with old machines, hand tools and diagrams. (See picture above of old bottling plant for bottled beer).
A good film on the subject of Dortmund as a beer city is shown in the basement. The exhibition of old beer glasses and beer mugs is interesting. Entertaining are the old TV commercials for various types of Dortmund beer, which visitors can select themselves by placing certain beer bottles on a tray.
Admission prices 2022 Dortmund Brewery Museum: Unlike in the past, admission is free!
Opening hours Brewery Museum Dortmund 2022: Tuesday, Wednesday, Friday, Sunday: 10 am – 5 pm, Thursday long evening 10 am – 8 pm, Saturday opening hours a little later: 12 pm – 5 pm, Monday is, as in many museums, a day of rest. Public holidays are usually open except for Christmas (24.12. and 25.12) and New Year's Eve and New Year's Day, for example.
Address and directions to the Dortmund Brewery Museum: Steigerstraße 16, 44115 Dortmund. The museum is about 30 minutes' walk north of the main railway station. Unfortunately, it is not so easy to get to the museum by public transport. The best way is to take bus 456 from Dortmund city centre and the main station to Nordmarkt. From there it's a 10-minute walk.
Note: Some of the information on this page, such as opening hours and admission prices, was updated in 2021 or 2022; some of the other information is older.