Bochum Zoo is a smaller zoo located not far from the city centre in the city park Bochum, which is well worth seeing. Although the zoos of Gelsenkirchen or Duisburg in the Ruhr area are probably larger and more spectacular, the zoo of Bochum has some important plus points: It is very child-friendly, the signposting of the animals is interesting and detailed, and the entrance fee is comparatively low.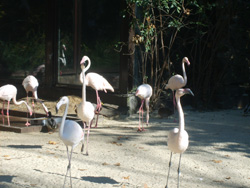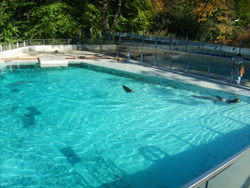 The heart of Bochum Zoo is a large hall with an aquarium, terrarium and fossilium. In the main pool, which is well worth seeing, sharks (blacktip reef sharks) and other fish swim in a real coral reef. In the Fossilium, which is highly regarded by experts and the only one in the Ruhr region, fossilised creatures up to 150 million years old from the Plattenkalk quarry in Solnhofen (Bavaria) are on display.
At the back of the zoo are the enclosures of the larger animals (e.g. lynxes, leopards and gibbons). The seals and penguins are very popular.
Tip: Most of the feedings at Bochum Zoo take place from around 2 to 3 pm. Especially the seal feeding and the caiman feeding are interesting. This is the best time to visit the zoo.
For children there is a petting zoo with goats, as well as pony rides at weekends and on public holidays (1 euro). The zoo can be visited barrier-free in a wheelchair. All enclosures and aquariums have a very detailed and exemplary description of the animal species with descriptions of their habitat, way of life, food, reproduction and much more.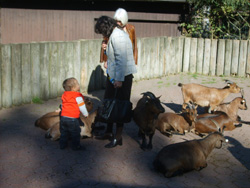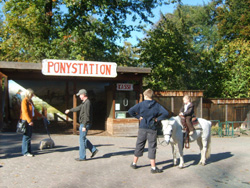 Admission prices Bochum Zoo (as of 2022): Adults 8,00€, children 4,50 (3-17 years). Dogs can be taken into Bochum Zoo on a lead. Interesting guided tours through the zoo in the middle of the Ruhr area cost €40 per hour for groups (plus entrance fee).
Opening hours Bochum Zoo 2022: daily from 9 a.m., in winter until 4:30 p.m. – in summer until 7 p.m., the two months of March and October in between, the opening hours of Bochum Zoo are 9 a.m. to 6 p.m.
Bus and underground to Bochum Zoo: From the main railway station bus no. 354 to directly in front of the entrance or underground stop Planetarium and 5 minutes walk. The walk to the zoo from the city centre takes about 30 minutes.
Other zoos nearby: The two really big zoos in the Ruhr area are in Gelsenkirchen (click here) and in Duisburg (click here).
Some info on this page such as opening hours and admission prices are from 2022, other details are a few years older.
Link tips:
Info about Berlin Zoo 2022
Tickets London Zoo (can be bought online)