Deutschlandexpress
The Deutschlandexpress is one of the largest model railways in the world. It is located in the Nordsternpark in Gelsenkirchen and can be visited. The U-shaped layout is over 130 metres long and about 700 m² in size. Visitors can go inside the U and thus look at all the details of the Deutschlandexpress from close up.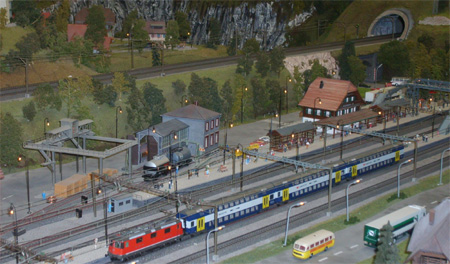 The Märklin company's layout is modelled on Germany. It goes from the North Sea to the Ruhr area with its industry to Lake Constance and the Swiss Alps. Many well-known buildings such as bridges and industrial plants have been reproduced in their original form. 250 trains run through the world's largest model railway in a three-line system. Visitors can activate little extras like the ringing of church bells by operating switches. On the upper floor there is a larger-gauge railway for children to play on.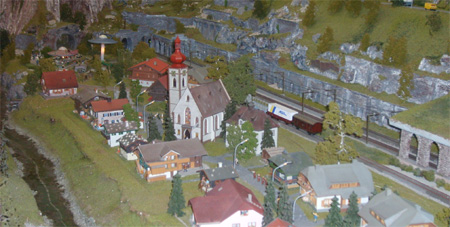 Opening hours Deutschlandexpress 2022 Every day except Monday from 10 am to 6 pm.
Admission prices Deutschlandexpress (as of June 2021): Adults pay an entrance fee of 6, 90€, children 4€ entrance fee, families maximum 15€. Discounts are available for groups and others.
To get to the Deutschlandexpress: Bus 383 or express bus 56 from Gelsenkirchen Hbf, get off at Nordsternpark and walk for about 5 minutes to the world's largest model railway. Information about tickets in the Ruhr area can be found here.
Some of the information on this page is already a few years old, admission price and opening hours have been updated.
By the way, the really biggest model railway in the world is in Hamburg. We have written an article about that, too.
Nordsternpark
Nordsternpark is a large park in Gelsenkirchen on the site of a former industrial area with a coal mine. The colliery was closed in 1993. After extensive reconstruction, the site hosted the Federal Garden Show in 1997. Many of the attractions built then are still in operation today.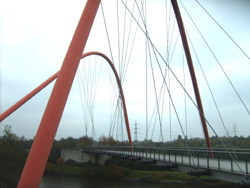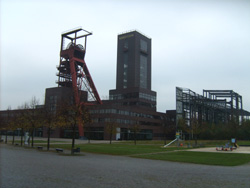 The Gelsenkirchen Amphitheatre is located directly on the banks of the Rhine-Herne Canal. In summer, theatre and music events take place in the open-air theatre with over 6000 seats. Next to the amphitheatre stage, a hyper-modern bridge has been built over the canal (see picture). Also worth seeing are the 18-metre-high climbing wall, the large Kinderland playground and the extensive green and flower areas. Some old buildings from the heavy industry era still stand in Nordsternpark and have been partly renovated. Directions as above below Deutschlandexpress.