The Zeiss Planetarium Bochum is one of the largest and most modern planetariums in Germany. There is seating for 230 people under the 20-metre-high dome. In a planetarium, the starry sky is displayed by means of a projector. The movements of the planets and stars can be recreated in fast motion at any time of the year and any time of day. It is therefore a kind of star cinema and has nothing to do with a telescope or an observatory.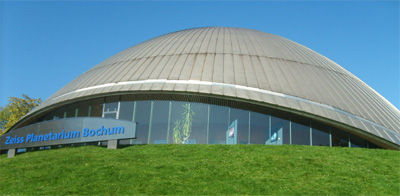 Opening hours: Every day except Monday, there are currently 4-5 events at the Planetarium Bochum. While these are mostly school and children's events during the day, the main programme, which is well worth seeing, runs at weekends and in the evenings.
Events and shows at the Planetarium Bochum: At the moment (June 2017), for example, the shows "Ferne Welten – Fremdes Leben" (distant worlds – alien life) (very interesting, there is about possible extraterrestrial life), "Vom Urknall zum Menschen " (from the big bang to mankind), "Wunder des Kosmos" (wonders of the cosmos), "Schwarze Löcher" (black holes), a show about planets in our solar system and much more. There are also great live shows like "Stars over the Ruhr" or a live journey through the universe. There are also events for children, concerts, lectures and readings. There's a lot going on at the Planetarium Bochum, and the events are consistently exciting and well done.
Admission prices Planetarium Bochum (as of early 2022): Adults 9.50 euros, children who come with parents, grandparents etc. pay 3 euros admission. A few events cost a little more.
Location Planetarium Bochum: On foot it is only a few 100 metres east of the city centre (pedestrian zone, main railway station) of Bochum. The underground stop "Plantetarium" is only one stop away from Bochum's main railway station. Bochum Zoo and Bochum City Park are nearby. You can easily combine a visit to the zoo and the planetarium, a nice day out in Bochum.
We also visited the 3D Planetarium in Pilsen (Czech Republic), one of the most modern planetariums in Europe: Here is our article.
The island of Halki in Greece