The Trinkhalle Baden-Baden stands next to the Kurhaus with the Casino Baden-Baden in the centre of the city. In the overwhelming 90-metre-long building, the healing water was and is dispensed to the spa guests.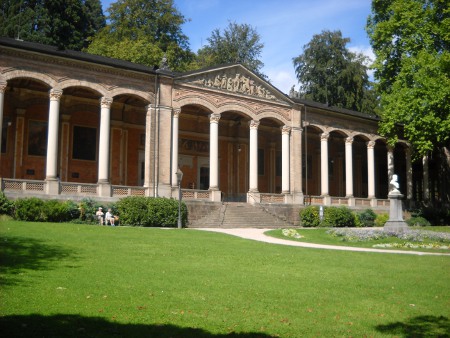 Today, the Trinkhalle houses good tourist information in Baden-Baden. You can get a lot of information material, and questions are answered in detail and competently. The tourist information centre also offers advance ticket sales.
In addition, you can sample the healing waters of Baden-Baden. For only 20 cents, you get a cup that you fill up yourself with the water. The water is hot and tastes a little like chemicals. There is a notice above the tap that you should not drink more than 125 ml per day.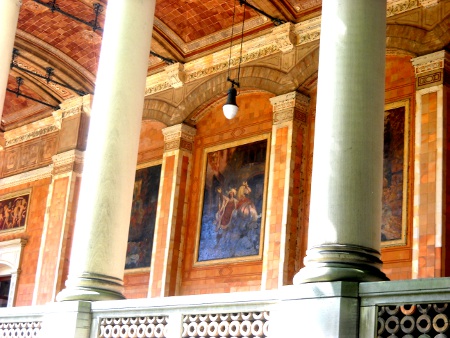 The Trinkhalle Baden-Baden is particularly impressive from the outside. Between the huge columns in the ancient Greek style are 16 oversized murals. The 19th-century paintings by Jakob Götzenberger depict scenes from old legends and anecdotes from the Black Forest.
These open colonnades with the healing springs are also called colonnades. In addition to the colonnades of Baden Baden, the buildings around the hot springs in Karlovy Vary / Czech Republic are also among the most beautiful in Europe. More info on this link