Dortmund is the best known and largest city in the Ruhr region. For some years now, Dortmund has overtaken Essen with just under 600,000 inhabitants and thus has the highest population of all cities in the Ruhr region. The city is located in the eastern Ruhr region. There are not too many sights in the city centre of Dortmund. However, in terms of shopping (the largest pedestrian zone in the Ruhr area) and culture, the centre of Dortmund has a lot to offer.
Pedestrian zone
A multi-lane ring road, the so-called Wall, runs around the large city centre of Dortmund. Within the ring, most areas are pedestrian zones. The main shopping streets are Westenhellweg, Ostenhellweg, Hansastraße and Brückstraße. All the large department stores' chains are represented, as well as many small shops. The range of goods on offer is large and the price level is reasonable – Dortmund city centre is ideal for bargain hunters.
German Football Museum
Almost directly opposite Dortmund Central Station is the modern and large German Football Museum. One of the most beautiful and best-known museums in the Ruhr area. Well worth a visit! Tickets should be bought in advance because of the crowds: Tickets are available on the well-known Getyourguide website.
Bridge Quarter and Philharmonic Hall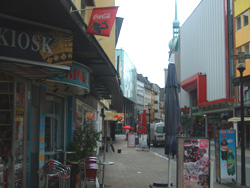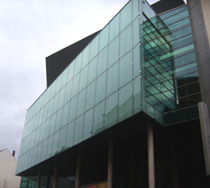 An interesting area in the city centre is Bruckstraße and the surrounding area. Here, on the one hand, you can find cheap and good kebab stands, alternatives and simple pubs. On the other side is the city's cultural flagship and most modern building: the concert hall of the Philharmonie Westfalen. The ultra-modern glass building is one of the most famous concert halls in Germany.
Great sights in Dortmund
– The largest museum in Dortmund is the DASA
– Many tourists also like the Dortmund Brewery Museum in the Nordstadt district.
– Another must-see is the famous Westfalenpark Dortmund in the south of the city
– Not far away is the Borussia Dortmund Museum and the largest stadium in Germany.
Theatre Dortmund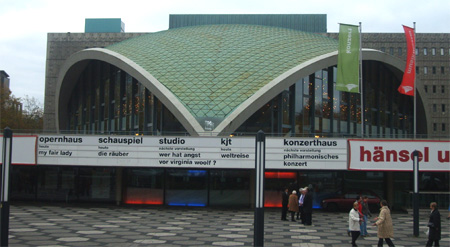 The second best-known theatre in the district after the Schauspielhaus in Bochum. In addition to plays, operas and operettas are also performed at the Dortmund Theatre and Opera House. The theatre is also popular for its children's plays such as fairy tales by the Brothers Grimm. The annual Geierabend (Vulture Evening) is an anti-carnival cabaret known beyond Westphalia. Admission prices are reasonable.
Other
The town festival with Hansemarkt is worth a visit. The Nostalgiekirmes features craftsmen and showmen from earlier times (see picture below left).
As restaurants in the city centre I can recommend the central restaurant "Zum alten Markt" (traditional local cuisine, picture on the right) and the restaurant "Zum Sauren". For a cheap snack, the good kebap pockets in Brückstraße (from €2.50) or a typical Revier curry sausage with chips, which can be found on (almost) every corner, are suitable.