The Portuguese Quarter is a part of Hamburg's New Town not far from the Elbe and the Landungsbrücken. Especially in the 1970s, many people from Portugal moved to Hamburg. Many worked in the port. Since the rents in the neighbourhood were not high and the jobs in the port were not far away, many moved here. Besides Portuguese, many Spaniards and some Greeks and Italians also came at that time. The majority of foreigners are and have been Portuguese since about 1975.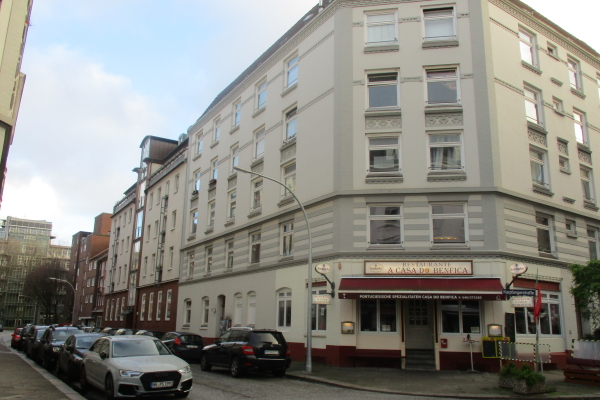 Today, several hundred Portuguese still live in the Portuguese quarter named after them. However, the number of people with roots in Portugal has been decreasing in the district for years.
As a visitor to the Portuguese Quarter, you can still see the many Portuguese and Spanish restaurants. Many Hamburgers and tourists come here to eat fish and meat. The Spanish tapas in the Portuguese Quarter are also well-known in Hamburg,
In most restaurants with dishes from Portugal, main courses cost between 15 and 20 euros. However, many have a cheap lunch menu (Monday to Friday). Often, you can get delicious food from Portugal for less than 10 euros. Therefore, we recommend tourists to visit the Portuguese Quarter during the week in the early afternoon.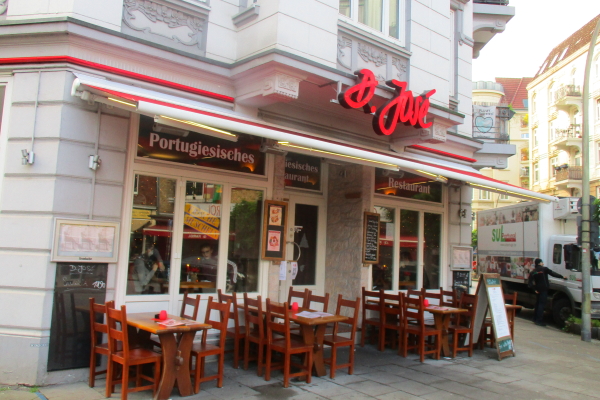 Good and well-known restaurants with cuisine from Portugal are, for example, the "Restaurante Porto", the "Casa del Sabor" or the "A Varina". The fish platter at A Varina in Karpangergasse tasted good to us. The Porto restaurant serves great, inexpensive lunches during the week. There are also some Spanish and Italian restaurants in the Portuguese quarter. The pizza is good at Luigi's. Almost next door is "Ricebrothers", a popular place with Asian cuisine. "The Greek" is a Greek restaurant with good food.
Nearby you can view the Landungsbrucken and the Old Elbtunnel Hamburg. The famous harbour tours through the port of Hamburg also start nearby at the Landungsbrücken.
Hamburg's Portuguese Quarter is between the Hamburg Landungsbrucken and the Michel, the Hanseatic city's main church. The best way to get there is by public transport to the Landungsbrücken stop (S1, S2, S3, U3). The Portuguese quarter is not particularly large, about 4×4 streets.
Book a Hamburg port tour online
In our opinion, the best provider for port tours in Hamburg is Reederei Abicht. Good tour, very nice staff, many departures, funny and informative speakers and much more. We really enjoyed the harbour tour with Abicht. Better to book online beforehand: