Overview food and important dishes in the Black Forest
The cuisine of the Black Forest is largely traditional. It is strongly influenced by the neighbouring regions. However, there are also many dishes that are unique to the Black Forest. However, much of it is also reminiscent of dishes from Swabia, Switzerland, Alsace or other parts of Baden. The majority of inns in the Black Forest still offer mainly local dishes. This applies to simple inns as well as to star-rated restaurants. Many restaurants in the Black Forest have a longer lunch break, from about 2:30 to 5 p.m., and also a day off in the high season. The best Black Forest inns can be found mainly in rural regions a little away from mass tourism. Here, prices are reasonable by southern German standards. Food is usually a little more expensive in the towns near the Swiss border and in Freiburg.
Black Forest gateau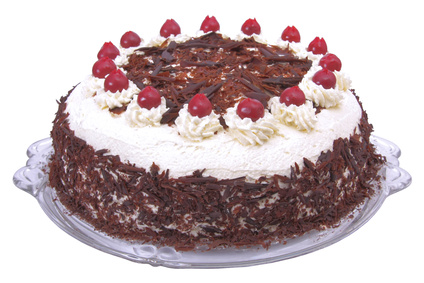 Image: © Marina Lohrbach – Fotolia.com
Black Forest cake is the most famous cake in Germany and the most famous food from the Black Forest. The most important ingredient is the famous Black Forest Kirsch (a schnapps). The Black Forest gateau is a real calorie bomb, but it is delicious. Other ingredients besides kirsch are sponge cake, cream, chocolate and cherries. Of course, the recipe is a little different everywhere. You can get a piece of kirsch cake in the café and in any confectioner's shop in the Black Forest.
---
Trip to Europapark Rust: Many tourists in the Black Forest take a day trip to Europapark Rust, the largest amusement park in Germany. The amusement park is in the west of the Black Forest near the Rhine and the border with France. After Corona, Europa-Park Rust is very busy again. That's why many visitors buy their tickets online beforehand:       >>>>  On the ticket website Getyourguide you can buy tickets online
---
Black Forest Ham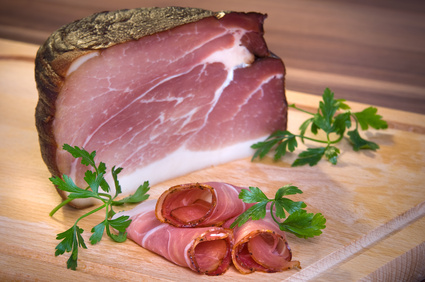 Image: © Igor Link – Fotolia.com
Black Forest ham is not much less well-known than Black Forest gateau. It is a smoked raw ham. The real Black Forest ham is smoked over fir wood and/or spruce wood for three weeks, as it has been for centuries, even today. Ingredients are often juniper berries, coriander, salt and pepper. A typical feature of Black Forest ham is the large white rind. You can eat the ham in most restaurants in the Black Forest, but you can also buy it at any butcher and even in many souvenir shops (packaged). Packaged Black Forest ham lasts for some time and makes an excellent souvenir.
Onion tart (Zwiebelkuchen)
One of the most delicious food to eat in the Black Forest is Zwiebelkuchen. It is a non-sweet cake with onion, eggs, bacon and sour cream. Zwiebelkuchen is common throughout Baden, but also further north in Rhineland-Palatinate and parts of northern Bavaria. It is very often eaten with fresh wine (Federweißer). Onion tart tastes best straight from the oven when it is still warm. We love Zwiebelkuchen, great food!
Important other dishes in the Black Forest
Spaetzle are a type of homemade noodles that are usually eaten as a side dish. They usually consist only of flour, eggs and salt. Nevertheless, making spaetzle is not that easy and requires a lot of experience.
Kässpätzle are a very common main dish in the Black Forest. However, they can also serve as a side dish to a meat dish. Kässpätzle are spaetzle with cheese and onion (odt fried onion). Like spaetzle, kässpätzle were invented in Swabia rather than the Black Forest.
Metzelsupp is a typical Black Forest food. Metzelsupp is a kind of slaughter platter with sauerkraut.
Maultaschen also come from Swabia. They are larger dumplings with meat. Maultaschen are served in soup as a starter or as a simple main course roasted with eggs and onion.
Of course, a lot of game is eaten in the Black Forest region. Especially deer, roe deer and wild boar are on many menus. Game dishes are usually 20 – 50% more expensive than other meat dishes. A very delicious meal is, for example, roast wild boar with chanterelles. Mushrooms are naturally widespread in the Black Forest thanks to the many forests.
In the Black Forest, fish is usually understood to mean trout. Trout from the clear waters of the Black Forest are a delicacy. There are many varieties of trout, such as Müllerin trout or blue trout.