The old synagogue in the centre of Essen is one of the most important synagogues in Germany. Today the building no longer serves as a synagogue – it houses a permanent exhibition on the life of Jews in Germany. Furthermore, it serves as a meeting place.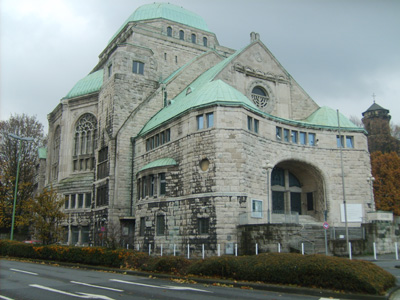 Old synagogue in Essen was built in 1913. During the Night of Broken Glass on 9 November 1938, the interior of the building was destroyed. However, the structure of the building was preserved. Today, the Old Synagogue in Essen is considered the largest synagogue in Germany – the cupola is 37 metres high and the building is 70 metres long. The interior of the synagogue was only reconstructed in the 1980s.
The exhibition "Stations of Jewish Life – from Emancipation to the Present" in the main room of the synagogue commemorates the persecution and murder of Jews under National Socialism. As a visitor, I was particularly moved by the presentation of individual fates of people in the Holocaust – anecdotes of people who were deported to concentration camps and murdered there merely because of their existence and their Jewish religious affiliation.
Admission to the old synagogue is free (as of 2022). An audio guide can also be borrowed free of charge (recommended, in German or English).
Opening hours 2022: Daily except Monday 10 am to 6 pm. Only on some important holidays can the Old Synagogue Essen not be visited.
Unfortunately, guided tours take place only rarely – for individuals on the first and third Sunday of each month at 3 pm (contribution towards expenses 3.00 euros in 2022, reductions are available). However, one can get into conversation in the meeting place even without a guided tour. Guided tours can be arranged for school classes and other groups.
Location: The Old Synagogue is not far from the centre of Essen, about 150 metres east of the main pedestrian precinct Kettwiger Straße (address: Steeler Straße 29).
Some of the information on this page is several years old Admission prices and opening hours were updated in 2022.
The Old Synagogue on the city map of Essen
Nearby
– the GOP variety theatre in the centre of Essen
– the shopping city of Essen (centre and pedestrian zone)