Karlsruhe Castle is the largest and most striking building in the city. It is very centrally located, only a few hundred metres north of the centre of Karlsruhe. Behind Karlsruhe Castle is a very large castle garden. To the side (west) of the castle is the Federal Constitutional Court.

The huge yellow-coloured Karsruhe Castle was only built at the beginning of the 18th century. For a long time, until World War I, it was the seat of the dukes and margraves of Baden. After that, Karlsruhe Palace was rebuilt several times. It was hit by bombs during the Second World War and was not rebuilt in its original state until the 1960s. Today, a museum (the Baden State Museum) is housed in central parts of Karlsruhe Palace.
The very large palace garden of Karlsruhe Palace is the most popular park in the city. It was built in the 18th century. Much was rebuilt on the occasion of the Federal Garden Show in 1967. The palace garden railway – popular not only with children – was also built for the Federal Garden Show. A round trip takes about 20 minutes (only in summer). On Sundays, the Schlossgartenbahn is even pulled by a real steam locomotive.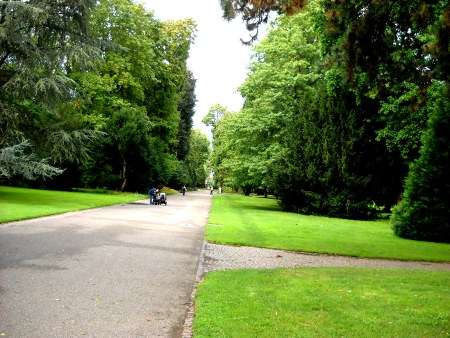 There are 32 streets leading off from the circular palace gardens around Karlsruhe Palace. The street around the palace garden is called Zirkel. The centre of Karlsruhe with the market square and the pedestrian zone is about 100-200 metres south of the Zirkel. The main railway station is about 2 km south of the palace gardens. At the back of the garden of Karlsruhe Castle is the famous Wildpark Stadium, where Karlsruhe SC plays. The Federal Constitutional Court is located to the west of the castle. It is being rebuilt from 2011 to 2014. That is why the judges have moved out for the time being.
Trip to Europapark Rust: Many tourists in the Black Forest take a day trip to Europapark Rust, the largest amusement park in Germany. The amusement park is in the west of the Black Forest near the Rhine and the border with France. After Corona, Europa-Park Rust is very busy again. That's why many visitors buy their tickets online beforehand:       >>>>  On the ticket website Getyourguide you can buy tickets online