The Zoom in Gelsenkirchen is more than a zoo. It is an adventure park where animals are not simply kept in cages or enclosures. At the Zoom, the landscape and the buildings have been elaborately adapted to the region. The animals' habitat is also close to nature. Fences have been largely dispensed with, and visitors come much closer to the animals than in other zoos. The overall experience at Gelsenkirchen Zoo is inspiring. Even people who normally find zoos boring were fascinated by the Zoom. As a new, modern zoo, Zoom Gelsenkirchen is an example of how you can make much more out of a zoo than just keeping animals in cages.
The zoo is divided into three themed areas: Alaska, Africa and Asia. The Asia section is the newest and was opened a few years ago. Thus, animal species from Alaska, Asia and Africa can currently be seen at Zoom Gelsenkirchen. Animals from other regions such as South America, Europe or Australia have been consistently omitted (except for a Westphalian farm at the entrance). Two long circular routes lead through the three adventure worlds Alaska, Asia and Africa. The Zoom Erlebniswelt is large and there is a lot to see. You should allow yourself at least three hours, ideally about five.
Alaska Adventure World
In addition to the animals, the highlights of the Alaska area (1.3 km long path) are a lumberjack's hut with original furnishings, a mine, a gold panning plant, an underwater glass tunnel, an original school bus and much more.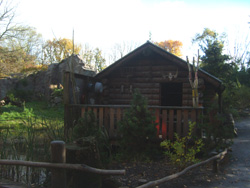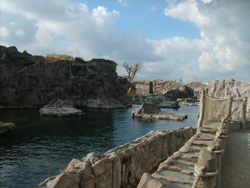 Streams including a walkable suspension bridge over the bears cross the Alaska themed area. The stylish saloon serves spareribs or a German bratwurst at the snack bar.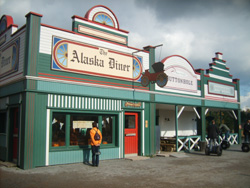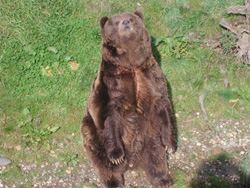 Animals in the Alaska Adventure World at Zoom Gelsenkirchen include the four polar bears, Timberwolves, giant Kodiak bears, moose, lynx, reindeer, beaver, otters and arctic foxes.
Adventure World Africa
In the Africa area (1.8 km long) of Zoom Gelsenkirchen, which was completed in 2006, the highlight for most visitors is a 15-minute boat trip through an African wet savannah past monkeys, hippos and antelopes, among others.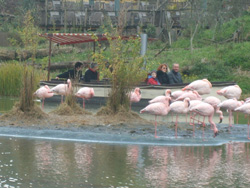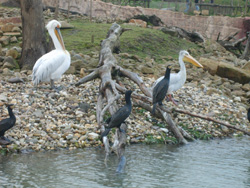 Also worth seeing are a replica village from Ghana, a large rainforest hall and a huge savannah landscape.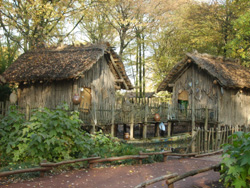 Animals in the Africa theme world include lions, monkeys, ostriches, hippos, rhinos, zebras and giraffes and many more.
Adventure World Asia
This area was opened a few years ago. A highlight is a large Asia hall with an elevated walkway over the rainforest with orangutans.
Opening hours and admission prices Zoom Erlebniswelt Gelsenkirchen
Opening hours Zoom Gelsenkirchen 2022: Daily from 9 am, depending on the season until 5 pm (winter) or 6:30 pm (summer). Gelsenkirchen Zoo is open every day of the year. Only on Christmas Eve and New Year's Eve are the opening hours a little shorter, until 2 pm. You should not arrive too late, preferably in the morning, as there is a lot to see in the zoo.
Ticket prices Zoom Gelsenkirchen in 2022:
The normal ticket for adults costs 21.50 euros.
Children under 4 years do not have to pay an entrance fee.
Children between 4 and 12 years pay an entrance fee of 14 euros at Gelsenkirchen Zoo.
Older children who are schoolchildren and students pay 16 euros admission in 2022.
Dogs are allowed in the zoo, but you can't take them to all the shops, attractions and sights. We recommend not bringing a dog if possible. In addition, a dog costs 6 euros extra for admission to Zoom Erlebniswelt Gelsenkirchen.
Furthermore, Gelsenkirchen Zoo offers an after-work ticket for visitors after 4 pm. Adults pay 10 euros, children 8.50 euros and pupils and students (see above) 9 euros. However, the time available with the evening ticket is very limited, especially if you want to see all three large themed areas (Alaska, Asia and Africa).
As far as we know, there is no family ticket or cheaper admission to Zoom Erlebniswelt for pensioners or the unemployed. Disabled people also have to pay the full admission price, but the person accompanying them may not have to pay any admission.
Compared to other zoos and what you can see at Zoom Gelsenkirchen, we think the entrance fee is okay. The food in the zoo (restaurant, snack bar) is rather cheap. The boat trip and all the other attractions are included in the entrance fee. On a weekday, the Zoom is much less busy than on a Saturday or Sunday.
Other zoos in the vicinity
Another great and large zoo in the Ruhr area is Duisburg Zoo.
If you're looking for a smaller zoo that doesn't cost as much to enter, you can go to Bochum Zoo.
All admission prices and opening hours are from 2022, other information on this page is partly older