Bad Sackingen (German: Bad Säckingen) is a town on the Rhine immediately south of the Black Forest in the district of Waldshut. The town has just under 20,000 inhabitants, but appears much larger. Bad Sackingen lies directly on the Rhine and is a border town. On the other side of the Rhine is Switzerland. Bad Säckingen is an important health resort.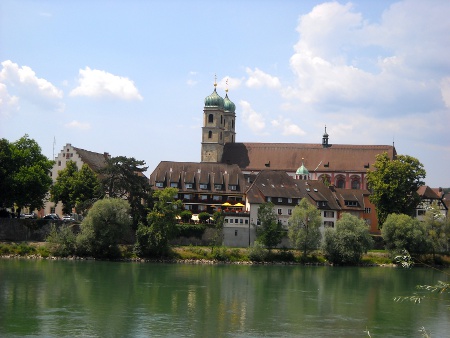 Bad Säckingen has a town centre that is well worth seeing. The dominant building is a large church, the so-called Fridolinsmünster. The minster was originally built in the Romanesque architectural style in the 14th century, but was later rebuilt in the Baroque style.
The Bad Sackingen wooden bridge, which connects Germany across the Rhine with Switzerland, is very well known. A bridge is said to have stood on the site of the present structure for almost 1000 years. The present bridge dates from the late 17th century, but was later renovated and rebuilt several times. In the past, the bridge was a very important crossing of the Rhine. Since 1979, a new wide motorway bridge has existed a few hundred metres downstream. Since then, the Bad Sackingen wooden bridge may only be used on foot or by bicycle. Thousands of people nevertheless use the wooden bridge every day, which is located directly in the centre of Bad Säckingen. On the other side is the town of Stein am Rhein in Switzerland. The Bad Säckingen wooden bridge is the longest covered wooden bridge in Europe (length over 200 metres).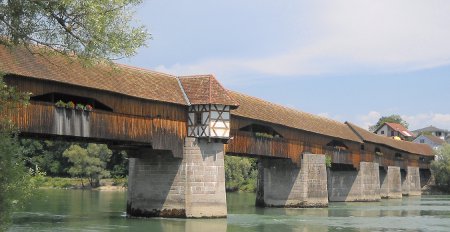 Another sight in Bad Sackingen is the castle and castle park not far from the centre. The 17th century castle houses the Hochrheinmuseum. The castle park appears well maintained. In the little tea house you can have a cup of tea or coffee with a view of the Rhine and Switzerland.