The Bermuda Triangle (also often spelled Bermuda3eck) in the centre of Bochum is the largest and best-known restaurant and pub district in the Ruhr area. Every day, thousands of visitors can be found in the pubs and beer gardens until very late at night. Quite a few of the 40,000 students in Bochum have problems in their studies because they are regular visitors to the Bermuda Triangle.
The Bermuda Triangle begins about 200 metres east of the main railway station and is more or less the southern extension of the pedestrian zone in Bochum city centre. The most important streets in the Bermuda Triangle are Kurtumstraße, Viktoriastraße and the central Konrad-Adenauer-Platz.
In addition to bars and pubs, there are also about 30 restaurants here in completely different price ranges and styles. Drinking is mainly beer, but also cocktails. Late in the evening, the discos and nightclubs open until the early morning. In summer, when beer gardens and street cafés are also open, there is even more going on. The price level is medium to above average The Bermuda Triangle is certainly not the cheapest area in the Ruhr, but it is not overpriced either. People go there because there is a lot going on. A 0.3-litre Pils typically costs €2-3, a 0.5-litre wheat beer usually around €4. Many restaurants and bars in the Bermuda Triangle have a happy hour.
The legendary Bratwursthaus in the Bermuda Triangle
Known throughout the Ruhrpott is the simple curry sausage stand Bratwursthaus in the centre of the Bermuda3eck. It is said to have the best currywurst in the world. We tried it – it's really good, especially the sauce. For 2.50 euros (as of 2017) you get the Ruhr area staple with a freshly baked roll.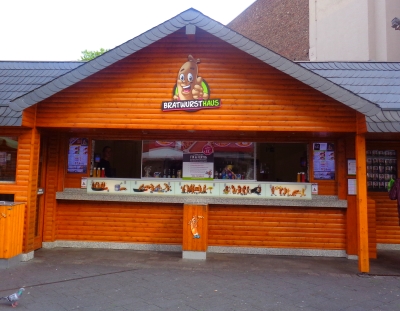 You can choose between bratwurst and kielbasa. The original curry sauce is also available in a 400-gram jar (3.50 euros) or in a sauce bucket (2.5 kg bucket of sauce costs 11 euros in 2017) to take away. If you're hungrier, you can also order larger portions at the Bratwursthaus. We liked the onion plate (double onion sausage, chips, onion, etc.). Everyone has their own sausage favourite – bratwurst, kielbasa, onion sausage or the popular chilli sausage. In addition, you can get Coke or Fliege beer in different varieties for only 1.50 euros during our visit in summer 2017. For children, you can order a children's menu for only 3 euros (half sausage, half fries and Capri Sun). We think every tourist in the Ruhr area should try a sausage at the Bratwursthaus in Bemudadreieck Bochum. There are also gift vouchers like Currywurst with Coke.
Other restaurants, pubs etc.
The following information is unfortunately a few years old, we will update it on our next visit to the Bermuda Triangle:
Next door is the French fries joint Grobschnitt. Meanwhile also an institution in the Bermuda Triangle, but not as cult as the Bratwursthaus. Grobschnitt serves the classic Revier red and white fries (with ketchup and mayonnaise from €1.70).
Café Sachs is a good café and restaurant with dishes from various Asian countries. There are dishes from Persia, Sri Lanka, India and China, for example. (Main courses about 7-12€).
Sticks is a high quality sushi restaurant with good explanation of the different sushi dishes on the menu. Menu €9.50, single order of individual sushis more expensive if you are more hungry.
The Three Sixty is, typical for the Bermuda Triangle – a mixture of bar, pub and restaurant. American style, daily changing and recommendable daily specials.
The Ullrich is known for schnitzel and German cuisine, sometimes even Bavarian pork knuckles.
Sausalitos is the Mexican restaurant in Bochum's Bermuda Triangle, famous for its Combo Tower – a tower of different dishes in several plates on top of each other. The Combo Tower is available for 4 people or more in the BBQ or Sausa versions for about 10€ per person. There are also other good Mexican dishes (main courses around 9-12€).
If you are looking for an ice cream cafe, Dolce Vita is a good place.
The Rösti has very cheap daily specials (from 3-4€).
The Erlkönig is a cheap pub with, for example, "Met aus dem Horn" for €2.50 or a 0.3l Pils for €2.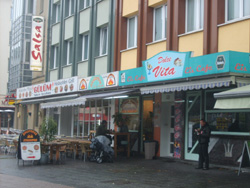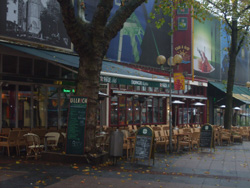 Many prices and info are a few years old!
Directions Bermuda Triangle Bochum
From Bochum main station you can walk, it's only a few hundred metres. or take the underground for one stop. Lines 308 and 318 stop at the underground station, both of which go to Bochum Hbf. The Bermuda3eck is in the centre of Bochum. You can also walk to Bochum's central pedestrian zone. Another nearby attraction is Bochum's famous Schauspielhaus (theatre).