Duisburg Zoo, which opened about 70 years ago, is one of the largest and best-known zoos in Germany. It is best known for its dolphinarium, which is the largest of the four dolphin tanks in Germany. Duisburg Zoo does a lot to protect species; many animals threatened with extinction have been and are being successfully bred here.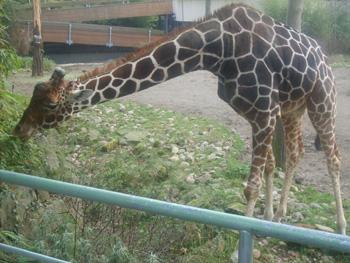 The size of the zoo is particularly impressive: over 2000 animals in almost 300 species can be seen in the Duisburg Zoo. Well known, for example, is the koala breeding and the large Amazon basin "Rio Negro" with Amazon river dolphin. The large monkey house and the Chinese garden are also popular.
Our tip: Brewery tour through Düsseldorf with free beer (Altbier): More info and online booking
The dolphinarium with six bottlenose dolphins is the highlight of the zoo visit for most zoo guests. Several times a day there is a show that should not be missed. Unfortunately, it is not included in the already quite high entrance fee to Duisburg Zoo.
Overall, Duisburg Zoo is a mixture of new and old. While some animal enclosures are very modern and spectacular, others make a rather renovation-needy impression.
The zoo is divided by an motorway, but you hardly notice it. The two parts are connected by a bridge.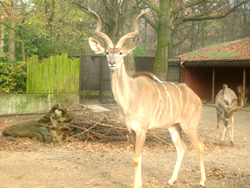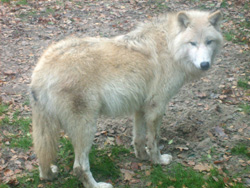 Opening hours Duisburg Zoo 2022
Open daily all year round: In summer 9-18:30, in winter until 16:00. However, as the zoo is quite large, you should definitely plan a few hours for your visit. Status of opening hours: 2022 April.
Entrance fees Duisburg Zoo (2022)
Adults €17.50, children 3 to 17 years €10, reduced €15.50 (pensioners students etc.).
A reduction is available for pensioners, students, pupils, trainees and the unemployed, for example. Children under 3 years of age do not have to pay an entrance fee at Duisburg Zoo.
A few years ago there was an entrance fee without the dolphins, which was a few euros lower. To our knowledge, this reduced admission price without the dolphinarium no longer exists.
Status of prices: April 2022. Other information on this page may be older.
Directions to Duisburg Zoo
The zoo is located on the city limits of Mülheim an der Ruhr. Take tram line 901 every 10-15 minutes from Duisburg Hauptbahnhof and Mülheim Hbf.
List of animals Duisburg Zoo (excerpt)
calicoes, elephants, giraffes, flamingos, large aquarium with e.g. River dolphins, lions, Siberian tigers, camels, nayalas, porcupines, anteaters, coatis, tapirs, wombats, koalas, kangaroos, watusi cattle, brush-eared pigs, raccoons, rhinos, zebras, seals, reindeer, owls, lynx, wild horses, seals, penguins, sea lions, arctic wolves (see picture above right), pygmy hippos, monkeys, guenons, gibbons, gorillas, storks, kudus (see picture above left), cranes, wild dogs and many more.