The Bochum City Park, not far from the city centre, was created about 130 years ago and is thus one of the oldest city parks in Germany. With over 30 hectares, the park, laid out in the English garden style, is one of the largest urban parks in the Ruhr region. Bochum Zoo is integrated into the park. Apart from the zoo, the rose garden is particularly worth seeing. However, the ponds, trees, shrubs and meadows are particularly interesting. These give you the feeling of being in a rural region and not in the middle of the Ruhr area, Germany's largest conurbation. 700 different trees and shrub gardens were counted in Bochum's city park a few years ago.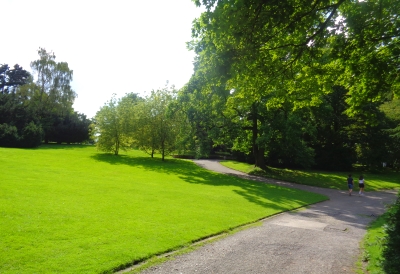 There are villas around the park. There is a mini-golf course and playgrounds for children in the park.
Bismarck Tower Bochum
In the park, behind the zoo, stands the mighty Bismarck Tower, a landmark of Bochum. The 34-metre-high tower was built between 1909 and 1910 after the death of Otto von Bismarck (honorary citizen of Bochum). The monument was extensively renovated about 20 years ago. The Bismarck Tower has been open again since 2001.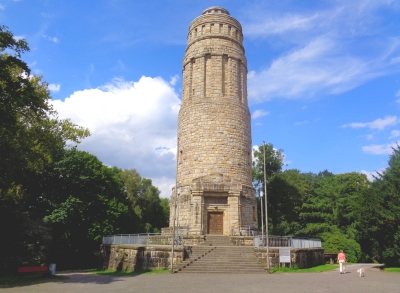 It is one of the largest of the approximately 150 surviving Bismarck towers in Germany. Especially at the beginning of the 20th century, the construction of Bismarck monuments in the form of a tower was very popular in Germany.
Lake with pedal boat rental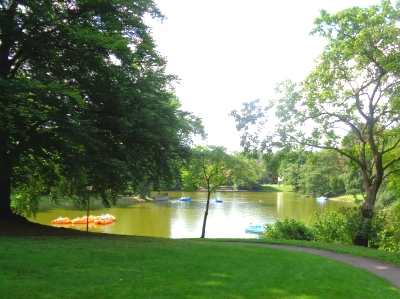 In another part of the Bochum city park is a large lake. Around the lake are some meadows with short grass. Many people from Bochum lie here in the sun in summer. But not only people love the short grass, but also the geese of the Canada goose species.
These birds have come to Europe from America with the help of humans and are spreading more and more in many parts of Germany and Europe. You can recognise the migratory birds by their black necks. There are probably almost 100 Canada geese around the lake in the city park. Ducks mingle with the geese, which are popular with children and adults.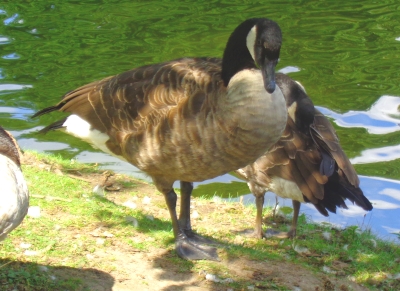 We loved the pedal boat rental. When we visited on a sunny Monday afternoon in August, all the boats were rented out. The price for a boat at Stadtpark Bochum is 5 euros for half an hour and 9 euros for a whole hour (as of summer 2017). Up to 4 people can go on the boat. Often there are children with their parents or grandparents. The nice pedal boat rental company also runs a small kiosk at the boat rental in the park. Among other things, ice cream and drinks are available. The opening hours of the pedal boat rental depend on the weather.
Near the Bochum city park is the interesting Bochum Planetarium. Not far from the large park almost in the city centre is the famous Starlight Express Theatre (musical).