The Elbphilharmonie is the new landmark of Hamburg. It is a concert hall on the banks of the Elbe in the centre of the city with a height of over 100 metres.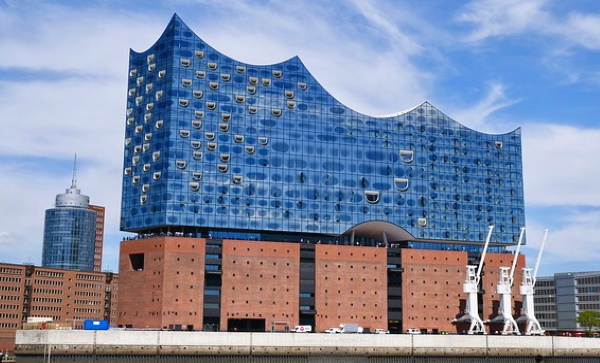 Next to Berlin Airport, the Elbphilharmonie, also known as the Elphi in Hamburg, is the biggest scandalous building in Germany in recent years. Completion was delayed again and again. Instead of 2010, the building was finally completed in 2016. In the end, the construction costs of the Elbphilharmonie were well over 800 million euros, more than 10 times (!) as much as originally planned.
But now that it is finished, almost every Hamburg resident is happy with the new concert hall. The look of the building is really great, plus the location on the Elbe. The hype is reminiscent of the world-famous Sydney Opera House in Australia. The halls inside (there are 2 large concert halls) are also impressive, the acoustics are very good.
Visit Elbphilharmonie Hamburg
We recommend a guided tour of the new concert hall. You go upstairs and enjoy the superlative view of Hamburg, the harbour and the Elbe from the grandiose plaza (a kind of all-round balcony). The modern architecture is unique and inspires almost all visitors to the Elbphilharmonie. The tour guides are well trained and provide all the facts about Hamburg's new landmark. There are usually several dates for the Elbphilharmonie tour during the day. Reviews of the tour from participants are very good.
In our opinion, the Elbphilharmonie is one of the most beautiful buildings in Germany, the design is magnificent. An absolute new highlight among the sights of Hamburg
Book a Hamburg port tour online
In our opinion, the best provider for port tours in Hamburg is Reederei Abicht. Good tour, very nice staff, many departures, funny and informative speakers and much more. We really enjoyed the harbour tour with Abicht. Better to book online beforehand:
In the vicinity of the Elbphilharmonie are the Hafen-City, the Spice Museum and the Speicherstadt Museum.