The Speicherstadt Museum is one of about five museums in the Speicherstadt district of Hamburg. The theme of the exhibition is the former Speicherstadt in the Port of Hamburg, now in the new HafenCity.
Cheap tickets for the Speicherstadt Museum are available on the internet at this link.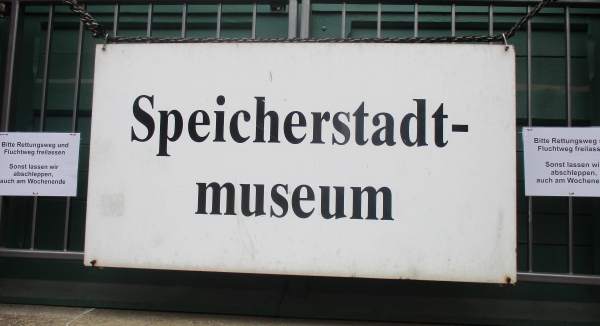 The Speicherstadt used to be the largest warehouse in the world. Goods from overseas were stored in the many houses. It was part of the free port of Hamburg. Later, international goods traffic was increasingly switched to containers, and the warehouses were used less and less. In 2003, the Speicherstadt was separated from the free port. The old warehouses were converted and many new buildings were erected. The Speicherstadt became HafenCity, the largest new development area in Europe.
One theme in the Speicherstadt Museum is the goods that used to be stored there. Many revolve around the most important goods from tropical countries, such as coffee, cocoa and tea. You can also see the old packaging of the goods such as boxes, sacks and so on. Much of the interesting exhibition is touchable, which is especially appealing to children. Another area is about the work in the former Speicherstadt. The construction and history of the Speicherstadt are also discussed.
Our conclusion: We liked the little museum. You get a good overview of the former Speicherstadt.
Tickets and admission prices Speicherstadtmuseum in 2022
Adults pay only 4.50 euros admission. Children and young people pay 2 euros, under 6s are admitted free of charge to the Speicherstadtmuseum.
Ticketsare available on the internet at this link.
Book a Hamburg port tour online
In our opinion, the best provider for port tours in Hamburg is Reederei Abicht. Good tour, very nice staff, many departures, funny and informative speakers and much more. We really enjoyed the harbour tour with Abicht. Better to book online beforehand:
Opening hours Speicherstadtmuseum Hamburg 2022
The museum is open every day of the week. As a rule, opening hours are 10 a.m. to 5 p.m., Saturdays and Sundays until 6 p.m. except in winter. The only day of the year on which the Speicherstadtmuseum is closed is 24 December (Christmas Eve).
Directions to Speicherstadtmuseum
The Baumwall underground station (U3) is a few minutes' walk away. Buses on lines 2 and 111 stop almost in front of the museum (Am Kaiserkai stop).
Nearby is the famous Elbphilharmonie (see our article) and the Spice Museum Hamburg (see our article).
In addition, you will find our article on HafenCity, where the museum is located, on this page.
Cheap tickets for the Speicherstadt Museum are available on the internet at this link.