Meersburg is the most visited town on Lake Constance by day trippers. It is located on the north side of the lake between Friedrichshafen and Überlingen. Ferries depart from here to nearby Konstanz. Meersburg is an old town with an old quarter worth seeing. Above the town centre (lower town) stands the Feste Meersburg castle complex, the oldest residential castle in Germany. In its neighbourhood stands the equally imposing 18th-century castle. In addition to the castle and the lower town, the lakeside promenade with its shops, cafés and restaurants is also very popular with tourists.
Kontanz City tour with private guide, well done and highly recommended:  Click here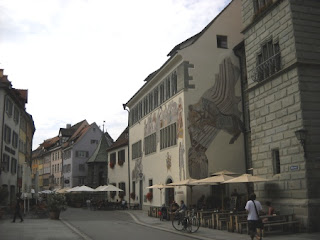 Meersburg Castle was first mentioned at the end of the 10th century. When Constance became Protestant at the beginning of the 16th century, Meersburg became a prince-bishop's residence for a few centuries in 1526. Meersburg was spared from Allied bombing during the Second World War, so that the old town has been almost completely preserved. Today Meersburg is a very small town with about 6000 inhabitants.
The area around Meersburg is famous for wine growing. The microclimate around Meersburg is ideal for growing grapes. Varieties such as Müller-Thurgau or Weißherbst grow magnificently here.
Meersburg has no railway station. However, there are about two buses per hour to and from Friedrichshafen during the day. In addition, there are frequent ferry connections to Constance and Friedrichshafen. Because of the approximately 2 million tourists who come to Meersburg every year, there are numerous car parks around the town centre. Although Meersburg is one of the most expensive towns around Lake Constance, parking fees are kept within limits (about 1 euro per hour). However, I feel that the price level in the hotels, cafes and restaurants is about 30-40% higher in Meersburg than in the less touristy places around Lake Constance such as Friedrichshafen. Meersburg is the most crowded place on Lake Constance in Germany. Especially on summer weekends, the old town is overcrowded with people and the car parks are completely full. If you have a choice, you should visit Meersburg during the week or in the morning in summer.