The Henrichshutte in Hattingen in the southern Ruhr region was one of the best-known ironworks in Germany. At the best of times, over 10,000 people were employed here in Hattingen, a town of 60,000 inhabitants. At the end of the 1980s, the plant was unexpectedly closed down. Despite a major industrial dispute that made headlines all over Germany, Thyssen AG stood firm and closed the plant. On 18 December 1987 the blast furnace was shut down for good after more than 120 years. The town was left with nothing. The consequences still have an impact today, but the unemployment rate in Hattingen is currently (2017) only around 6.5%; for a long time more than 10% of Hattingen's inhabitants were unemployed.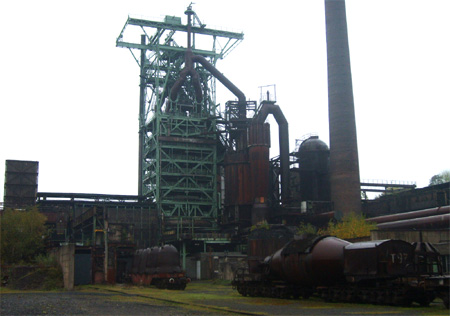 Today, parts of the site have been turned into a large, extremely interesting open-air museum. You can walk around the factory grounds wherever you like. Visitors can take a lift up to a gigantic blast furnace. From a height of 30 metres you have a good view of the ironworks.
You can also visit a casting hall, the burdening shop, the railway station, the laboratory, many tools, a scrap yard and several exhibitions. A visit to the Henrichshutte is an unforgettable experience for anyone interested in the industrial history of the Ruhr region.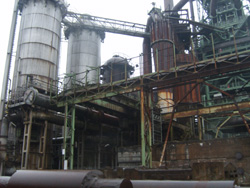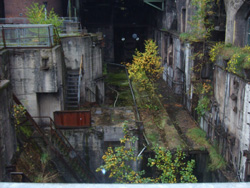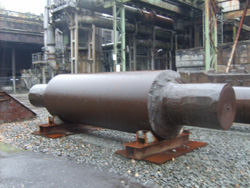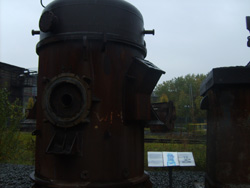 Opening hours Henrichshütte 2022: Tue- Sun: 10 a.m. – 6 p.m., closed on Mondays (day off). Open on most public holidays, even if the holiday falls on a Monday.
Admission prices Henrichshütte 2022: Adults €5, families maximum €9, reduced admission €2.50, children under 18 and schoolchildren free.
Unfortunately, the lift at the blast furnace will probably be out of action for the whole of 2017. However, you can go up the stairs.
How to get to Henrichshutte: Take the S-Bahn from Essen or Bochum to Hattingen. Get off at Hattingen Mitte. From there about 2 km on foot or by various bus lines (ask at Hattingen station). The bus line Bochum – Hattingen stops at Henrichshutte in both directions. Hattingen is part of the VRR tariff zone, which covers most of the Ruhr area. Information about tickets to Hattingen can be found on this page.
The admission prices and opening hours were updated in 2017, some of the other information on this page was created several years before 2017.
Other interesting industrial monuments: The Hattingen Henrichshütte belongs to the LWL Industrial Museum. It also includes the Hanover Colliery, the Nachtigal Colliery in Witten, the Zollern Colliery in Dortmund, the Henrichenburg Ship's Hoist in Waltrop (north of Dortmund), the Gernheim Glassworks in Petershagen between Hanover and Bielefeld, the Lage Brickworks Museum near Detmold and the Bocholt Textile Works (north of the Ruhr area). All 8 old industrial plants and mines are great sights in North Rhine-Westphalia and Lower Saxony.