Hattingen is a town with just under 60,000 inhabitants in the southern Ruhr region. In the past, Hattingen was mainly known for its industry, especially the Henrichshutte. After the decline of heavy industry, as was the case everywhere in the Ruhr region, new paths were sought. Today, many tourists come to the old town of Hattingen, especially from the large cities of the nearby Ruhr area.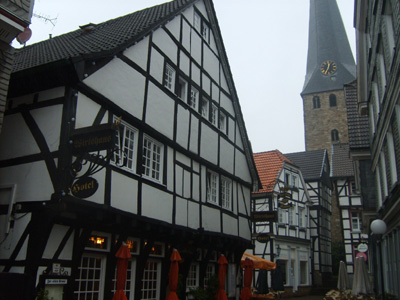 The more than 100 half-timbered houses in Hattingen are particularly worth seeing. Practically the entire old town is a pedestrian zone. There are many shops, restaurants and small hotels in the narrow picturesque streets. You quickly forget that you are in the Ruhr area. The old town has been renovated in an exemplary manner and is equipped with informative signs and signposts.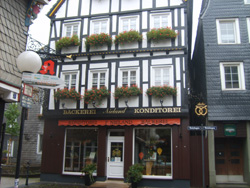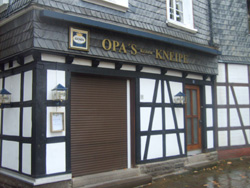 The most beautiful houses are the old town hall with its gateway (see picture below left right) and the Bügeleisenhaus (picture below right). The famous Bügeleisenhaus (iron house), which tapers to a point at the front like an iron, now houses Hattingen's small museum of local history. In Hattingen you should see the monument to the iron men on the town wall, which is intended to remind you of the battle to preserve the Henrichshütte that was lost in the end.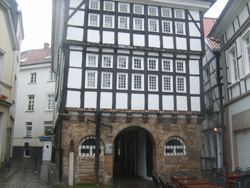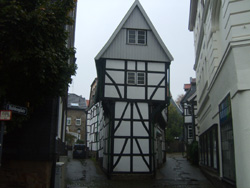 Directions to Hattingen: By S-Bahn (S3) every 20 minutes from Essen (every 30 minutes at weekends). There are also frequent tram connections from Bochum. Many buses to other regions in the Ruhr area and, for example, to Wuppertal. If you want to go to the city centre of Hattingen, always get off at the Hattingen (Mitte) stop and not at the Hattingen (Ruhr) station. More information about tickets in the Ruhr area can be found on this page.