Schmuckwelten Pforzheim is located in the city centre of the Goldstadt Pforzheim next to the Schlössle-Galerie shopping centre. Here you can see mainly gold, precious stones, jewellery and watches.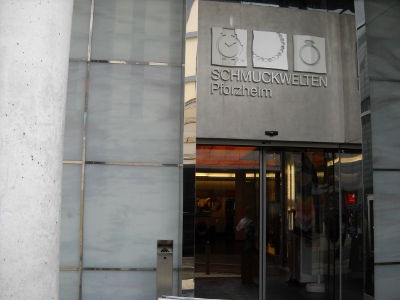 Highlights in the Schmuckwelten Pforzheim are, for example, a Porsche gilded with real gold and a large mineral exhibition. Even more gold than for the Porsche was needed for the gold coating of the entire body of a bus called the Goldliner. Many of the local watchmakers and jewellery makers exhibit their products. You can buy them on site. The many precious stones on display are also interesting.
Opening hours Schmuckwelt Pforzheim: 10 am – 7 pm, Sunday 11 am – 6 pm. Sunday sales are restricted due to the law on shop closing hours.
Admission prices Schmuckwelt Pforzheim: adults 8 euros, children 5.50 euros. There is no entrance fee for the shops selling jewellery and watches.
Some of the information on this page is several years old.
Online tickets Europapark Rust: The amusement park is located in the west of the Black Forest near the Rhine and the border with France. After Corona, there is a lot going on again at Europa-Park Rust. Many visitors are therefore buying tickets online in advance at a lower price:  >>>  You can buy tickets online on the well-known ticket website Getyourguide