The Caracalla Spa is a spa with thermal water in the spa town of Baden-Baden on the western edge of the Black Forest. It is a modern spa, built in the 1980s. There are several pools, including a year-round outdoor pool, with different water temperatures. The water in the Caracalla Spa has a special healing effect. Even in ancient times, the thermal waters of Baden-Baden were said to have a health-promoting effect. Caracalla was a Roman emperor who lived in the 3rd and 4th centuries AD.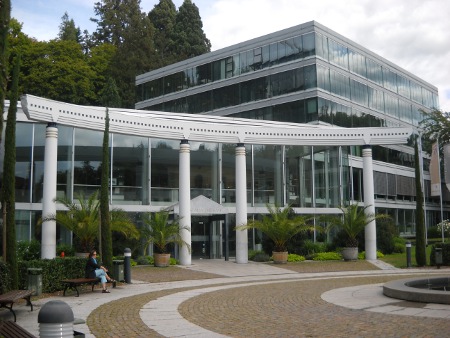 In addition to the baths, the Caracalla Spa also has a sauna included in the entrance fee. It is a modern and large sauna area. The bathing pools are very large. There are nudist steam baths and steam baths for guests wearing swimwear.
Admission prices Caracalla Therme 2019: Admission costs 15 euros for 90 minutes. If you want to stay for 2 hours, you pay only 1 euro more admission (16 euros), 3 hours 19 euros and a day ticket 23 euros. That sounds a lot at first, but the price is more than justified. Many a city pool with a sauna doesn't cost much less, but doesn't offer as much – especially no thermal water. For guests who visit the Caracalla Spa often, there are various discounts on the regular admission prices. Groups of more than 10 people also paid slightly less admission.
Opening hours Caracalla Therme 2019: The baths have very long opening hours. Every day of the year except Christmas Eve and Christmas Day from 8 am to 10 pm. On New Year's Eve, the thermal bath closes 2 hours earlier.
Extras at the Caracalla Spa: For some time now, the spa has offered a wide range of wellness services (massages and much more). These services cost extra, of course, and can also be booked on site.
Tip: On the first floor of the Caracalla Spa there are three large water dispensers from which hot water flows from three different thermal springs in Baden-Baden. You can get there without paying admission by going up the stairs to the right past the ticket office. There you can drink the warm mineral water free of charge (bring a cup or bottle). It is important to follow the instructions, for example that you should not drink more than 1/8 litre (125 ml).
Directly in front of the Caracalla Spa is Baden-Baden's interesting little hospital church. It is the oldest church in the city (see picture below). It was built in the 15th century.